First beginnings on the canals
01 Apr 1975
Background
Daphne's Father, John, was a self employed builder and decorator. Molly, his wife, had an 'uncle Ned' who lived near the canals in a large, but delapidated house, which John was called upon to help to maintain, whilst Molly & the children (Daphne & John) worked in the garden. On days off they investigated the local canals, but wanted to know more.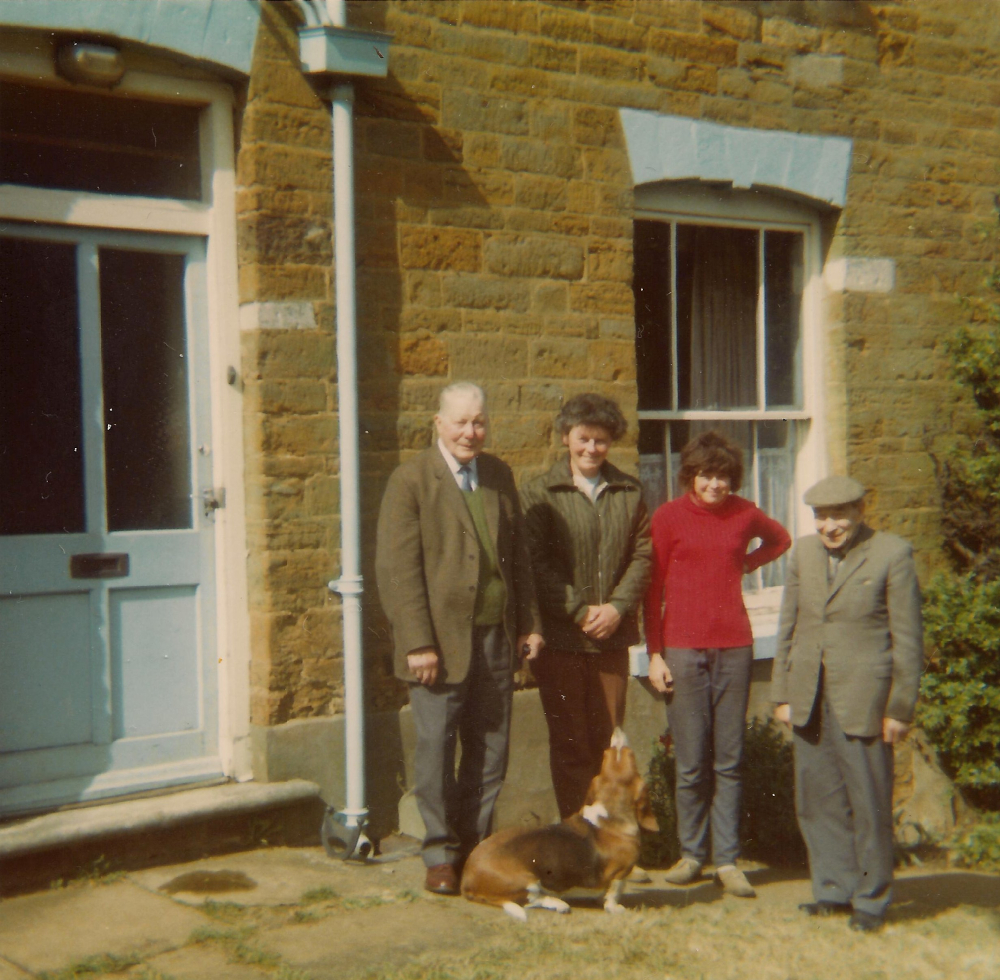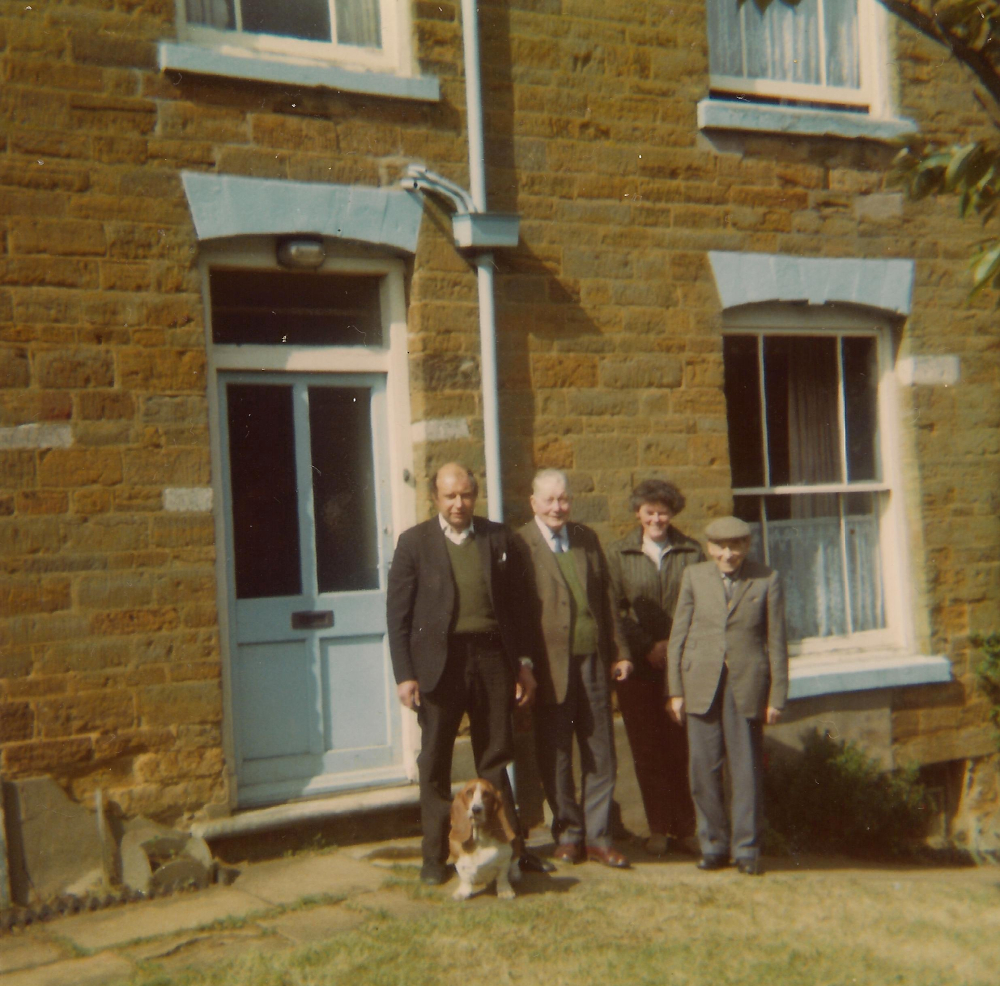 In the pictures
1st picture: Uncle Ned's friend, Molly, Daphne in a red jumper, Uncle Ned in flat cap.
2nd picture: John, Uncle Ned's friend, Molly & Uncle Ned in flat cap.
Whilst Daphne was at school she completed a project on the Grand Union Canal, the M1 of the canal world, which extended from London to Birmingham.
At one point the family hired a small outboard powered boat on the canal at Husband's Bosworth - this nearly ended in disaster when they explored a tunnel, and the propellor pin broke - frantic paddling got them to safety, and didn't dampen their thirst for more.
When the family inherited a little money from 'Uncle Ned' they decided to spend it on a canal holiday. This was the start of a long running family love of the canals and narrowboats.
1975 - first holiday (narrowboat Dudley)
In 1975 the family hired narrowboat (NB) Dudley from Anglo Welsh Narrowboats at Wootten Wawen & completed the Avon Ring.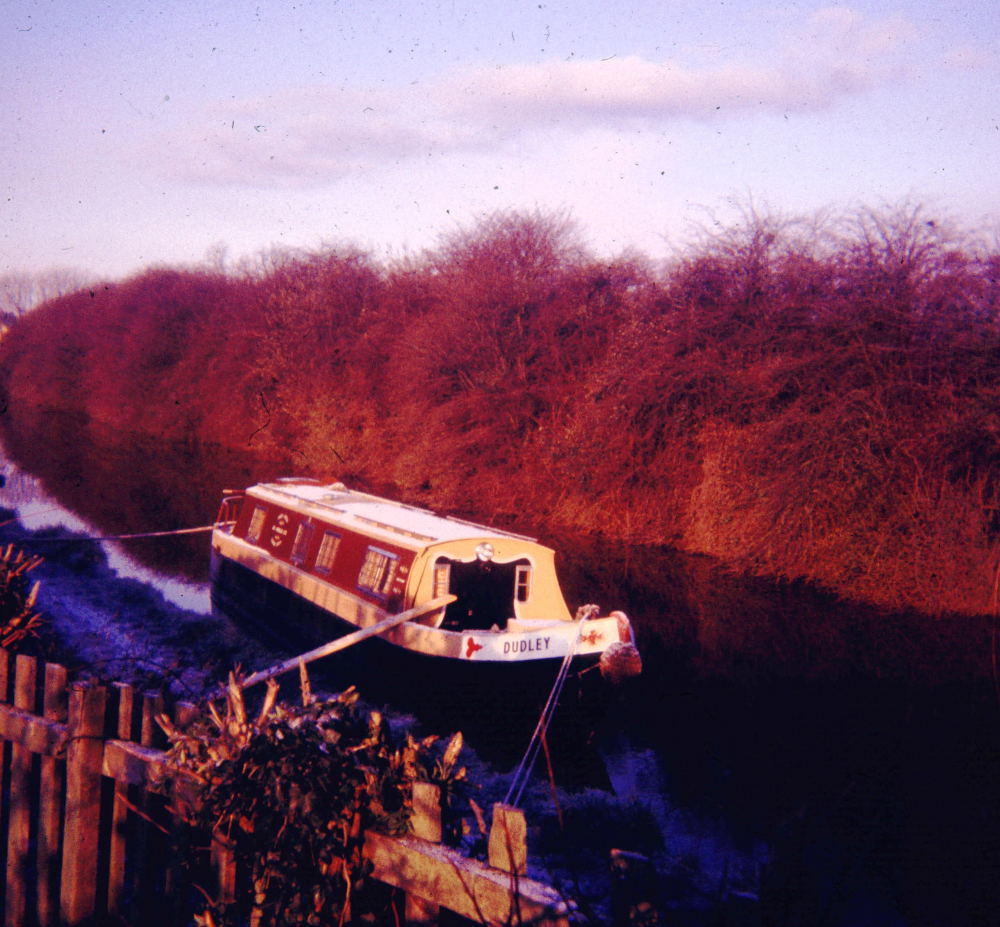 Daphne about that first holiday
"We were very excited when we got there, and went to the Navigation Inn for a meal before taking the boat out. The man at the hire basin showed Dad how to work a lock, accompanied us to the first lock, and he then walked back to the base.
The weather was not good, and it snowed at times during the week. It was Easter and very cold most of the time, so we stayed in the boat a lot of the time.
On the first night, we had to put a gang plank down, and our dog, 'Gay', fell off the plank into the canal. Dad pulled her out.
We went down to Stratford, arriving on the Sunday morning. Peggy was cooking a roast chicken dinner, and an American tourist stuck his head in the door and said "What time's the lunch tour?" - we explained there wasn't a lunch tour, and that we were a private boat.
We went onto the river Avon, with people waving at us from the theatre, and we waved back. Then we realised they were trying to stop us going over the weir, and we turned round and went back the correct way.
I don't remember much about going down the Avon, but we followed it to Evesham, and then continued on, into the river Severn. There were big boats on the river Severn, and our narrowboat seemed very, very, small. I can remember on the river Severn that the river was quite high and fast flowing.
We got to Worcester, and we turned right into the Worcester and Birmingham canal through Diglis basin. I can remember that the weather had been so bad, and when we went into this canal it was sunny, which seemed strange. We all had to work very hard to get up the 30 locks at Tardebigge - we had not been through many before this.
Shortly after Kingswood junction we went through Wast Hill tunnel which seemed very long.
I remember we were running short of time, and we had to start very early some mornings, and carry on until it was getting dark.
On the locks on the Stratford on Avon canal we met a one-armed lock keeper who told us that someone had operated the locks wrongly which had caused a flood which lifted the tarmac in the pub's car park (The Boot).
We were very pleased when we finished, it had been a hard introduction to canal boating, but very satisfying.
It certainly gave us an apetite for more canal holidays."