INSTRUCTIONS - How to Download & use the Garmin compatible maps
18 Oct 2023
All mapping data is derived from OpenStreetMap, including the downloadable maps. Many thanks to OpenStreetMap contributors for their skill & dedication.
Viewing the available maps
All of the maps from this site are freely available, but you have to download them and install them yourself. When you click on the link to the download site:
https://daphne-nick.uk/nextcloud/index.php/s/6cQesAz38DWRWBo
You should be presented with something similar to this view.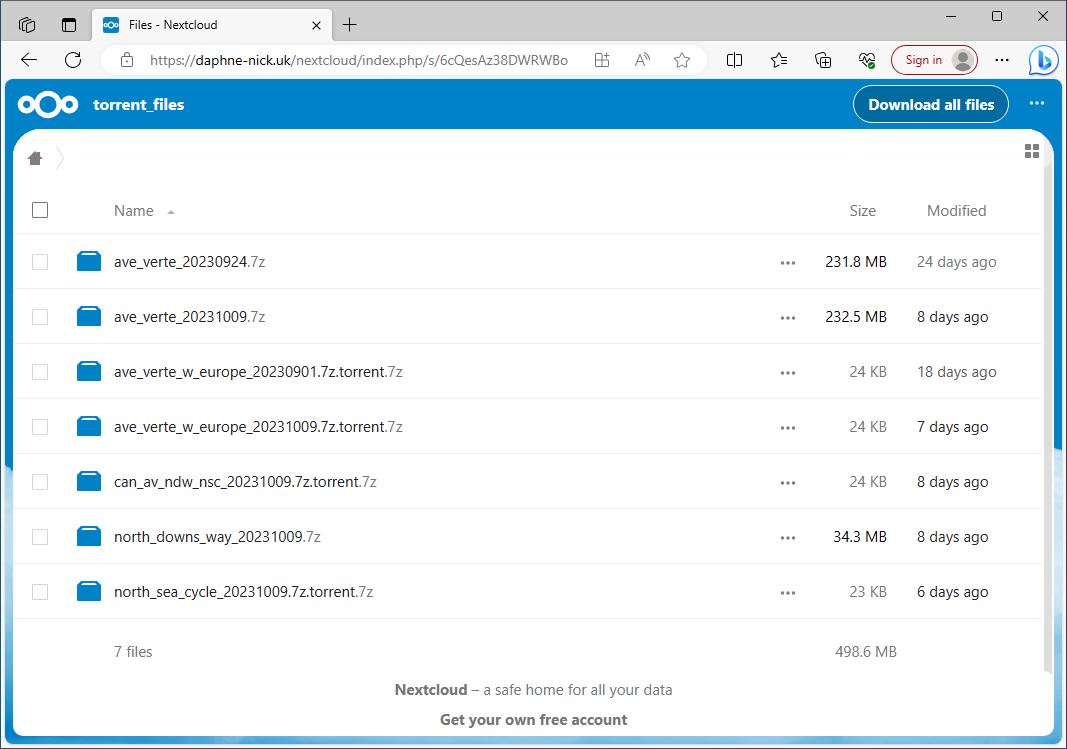 ---
If your view is the one shown below you need to update your browser, or use a newer browser such as Firefox or Chrome (Chromium). Do not "Download all files" - there could be many Gigabyte's of maps that you do not want, and it will swamp your internet connection, and probably mine as well.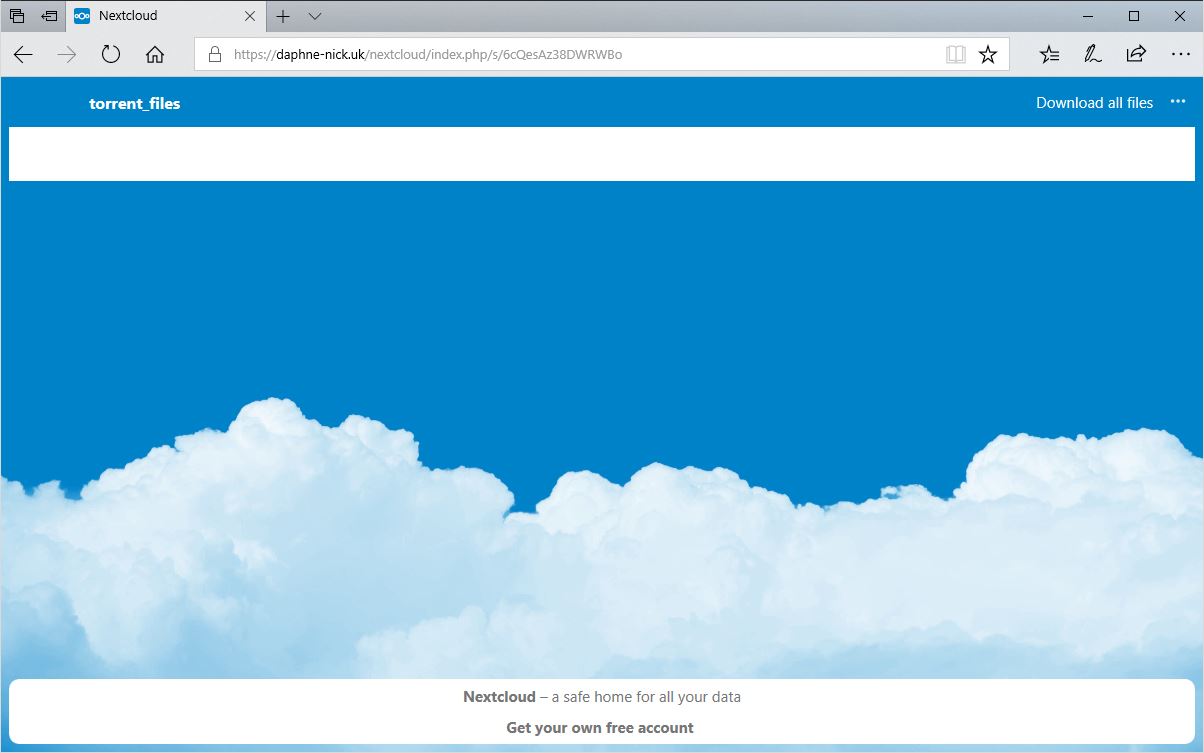 ---
Types of file / Map available
Because we are talking very big file sizes, my home network will not manage to allow everyone to download very large maps, directly, so I need to ask people to share the download of the larger files, using a file sharing platform.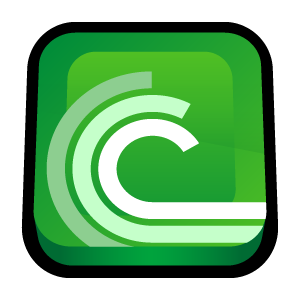 Bit-Torrent
Having decided which file you want to download, click on the filename, the download will begin, and the filename will appear in your download list. This will be very quick if you are downloading a *.7z.torrent.
---
Smaller Garmin compatible maps - "Small Avenue Verte" etc..
Smaller maps such as the "Small Avenue Verte" or "North Downs Way" are supplied as a direct download, compressed with 7-zip.
---
Garmin compatible maps supplied as a torrent file
Anything larger than 500mb is supplied in the form of a torrent file - the filename will be similar to "ave_verte_w_europe_20231009.7z.torrent" or "can_av_nsc_ndw_20231016.7z.torrent".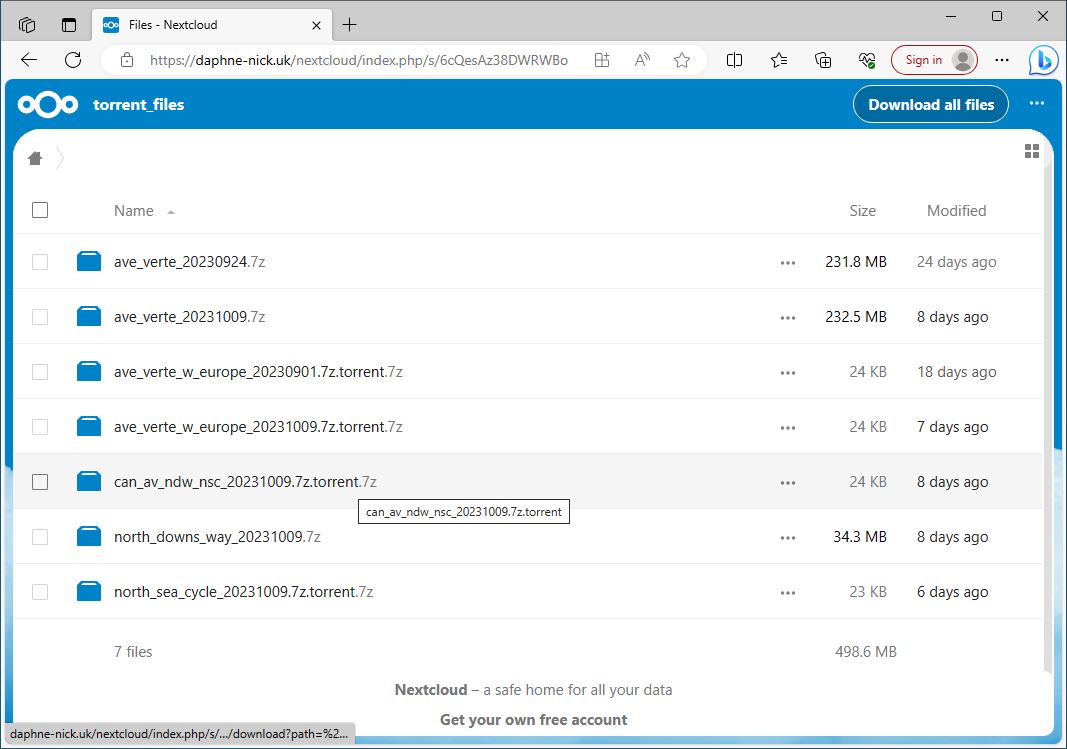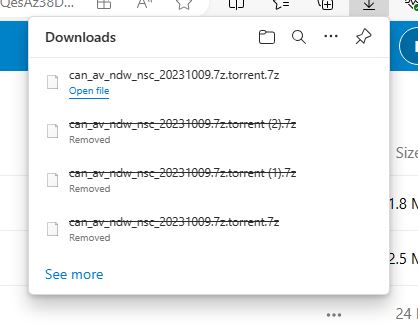 ---
Instructions for Windows users
Torrent Files
If you've downloaded a *.torrent file, you will now need to load it into a Bit-torrent programme, such as Transmission or Deluge, and wait for that download to complete - when that is complete, and it could take a long time (or if many people are downloading then it could be very quick!). If you search on the internet you should be able to find a suitable bit-torrent programme to install & use.
Decompressing your .7z download
You will need one of the programmes on your computer that can deal with files that have been compressed with 7-zip - I use the one from https://www.7-zip.org/download.html.
Using your file manager right click on the files name, and select "7-zip" & "Extract here".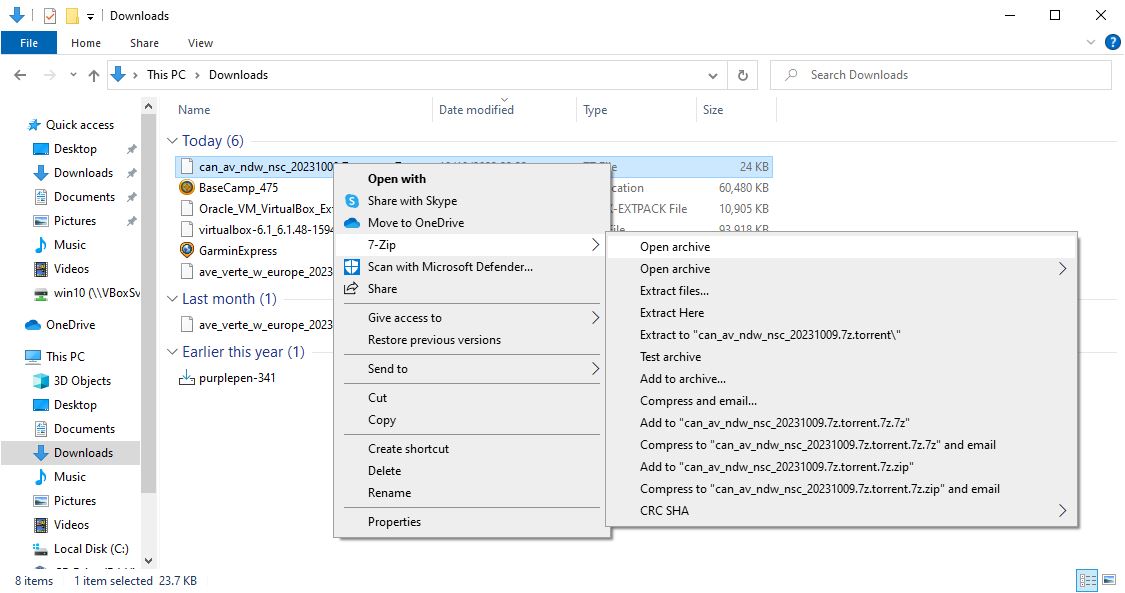 Instructions for Ubuntu (Linux users)
Torrent Files
Transmission is available in the Ubuntu Software Boutique, or you can choose from a variety of other apps. using
Decompressing your .7z download
A suitable programme for dealing with 7-zipped archives is probably already installed on your computer as part of the archive manager, and when your download is complete, right click on the filename in the file manager and select 'extract here', or choose a suitable location.
---
Using the files
You will now have two files, in a folder, for example;
ave_verte_w_europe_20231009.img , and
ave_verte_w_europe_20231009.tdb
Keep the two files together as they are both needed if you intend to use the map on Garmin's free 'Basecamp' programme. QMapShack is another good alternative for desktop use using the garmin compatible map (https://github.com/Maproom/qmapshack/wiki).
Follow this guide if you need help loading the maps into your Garmin device:
https://wiki.openstreetmap.org/wiki/OSM_Map_On_Garmin#Installing_the_map_onto_your_GPS
---
Contact me
If you wish to contact me - feedback about any of these maps is always welcome, please do so through: