Avenue Verte - Intro & First Steps
01 Jul 2023
Avenue Verte
The Avenue Verte is a mainly off-road cycle route extending from London to Paris. Depending on your choice of route, you can expect to cover at least 300 miles over the whole route. Much of the route is on old railway lines that have been transformed into very good cycle routes. There is a choice of routes in France.
Daphne & I have known of the route for several years, and were delighted to see a French friend who cycled with her electric bike the whole route, using friends or bed & breakfasts for accomodation.
In 2023 we decided to explore the French part of the route with friends. We have a car & caravan, and they have a motorhome. When cycling we look a little strange, as my cycle is a recumbent trike.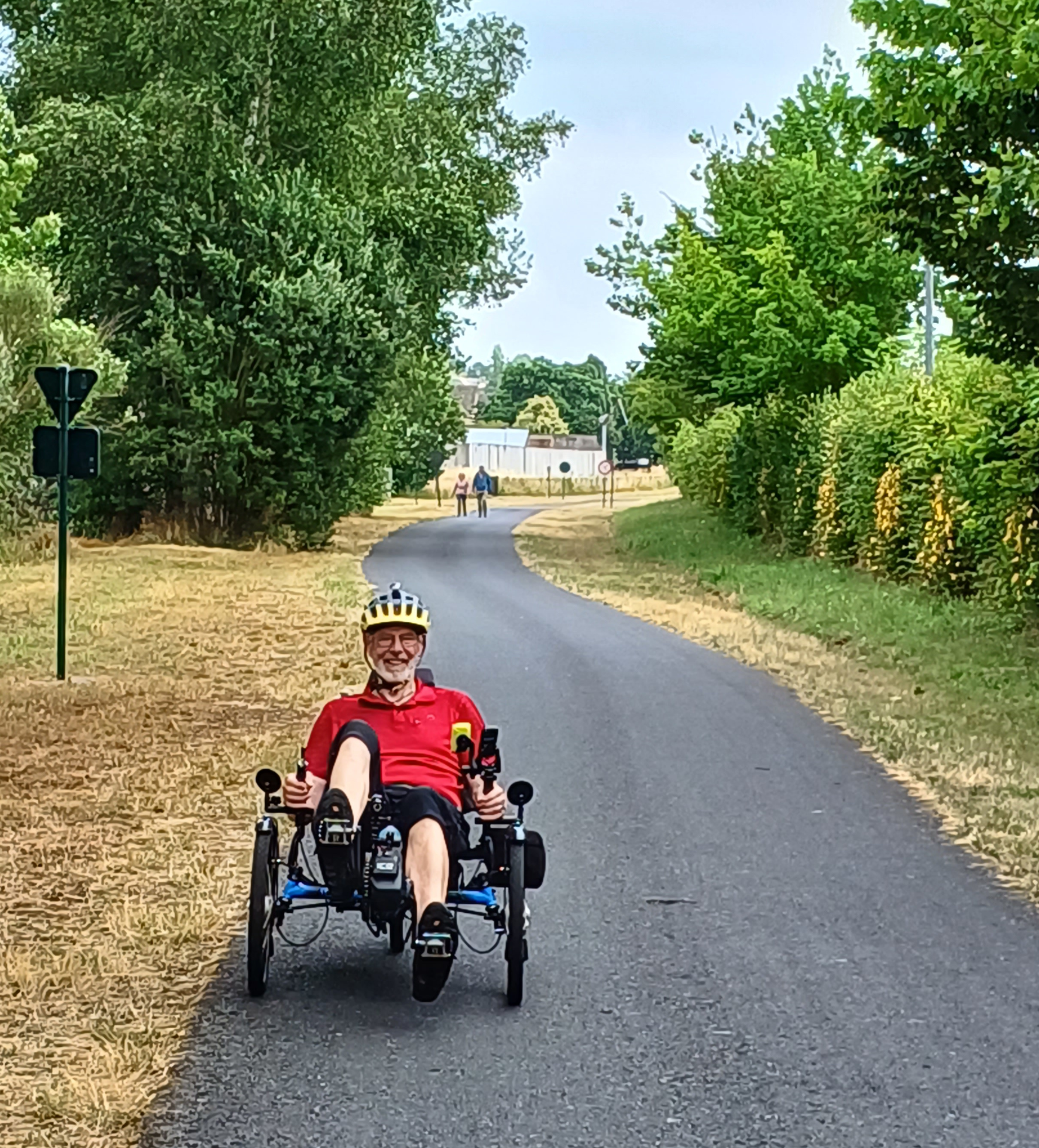 The route has it's own very handy website at https://www.avenuevertelondonparis.co.uk/.
As is usual for us, the "Avenue Verte" became a long term theme. It allows us to have more than one holiday based around it, and we can dip in and out as it suits us.
We decided on 4 weeks in France, with roughly 3 weeks devoted to the Avenue Verte, and one week exploring the Honfleur area. The English section could follow later, but in truth Daphne & I have cycled most of it in previous years.
A Night near Newhaven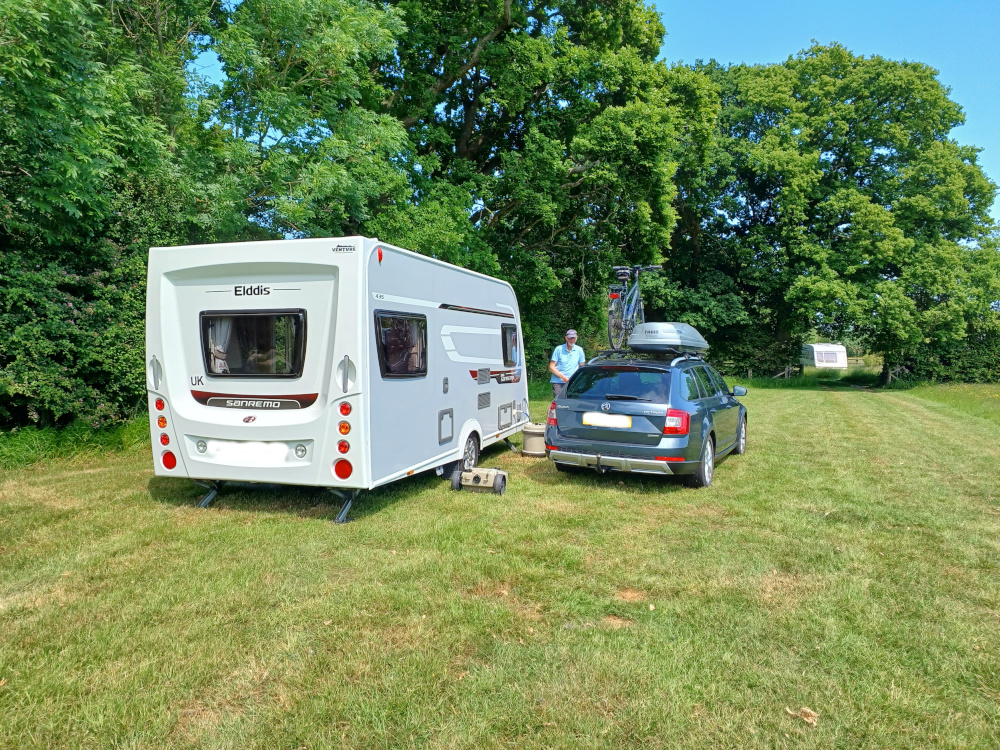 June 2023 saw us set-off with our caravan for a small site near Newhaven, which was ideal - nicely tucked away, and with a short walk available in the grounds to a beautiful nature pond. The site was fairly close to the ferry terminal, so we didn't have to worry about a long journey in the morning. A fish & chips evening meal with our friends made a terrific start to the holiday.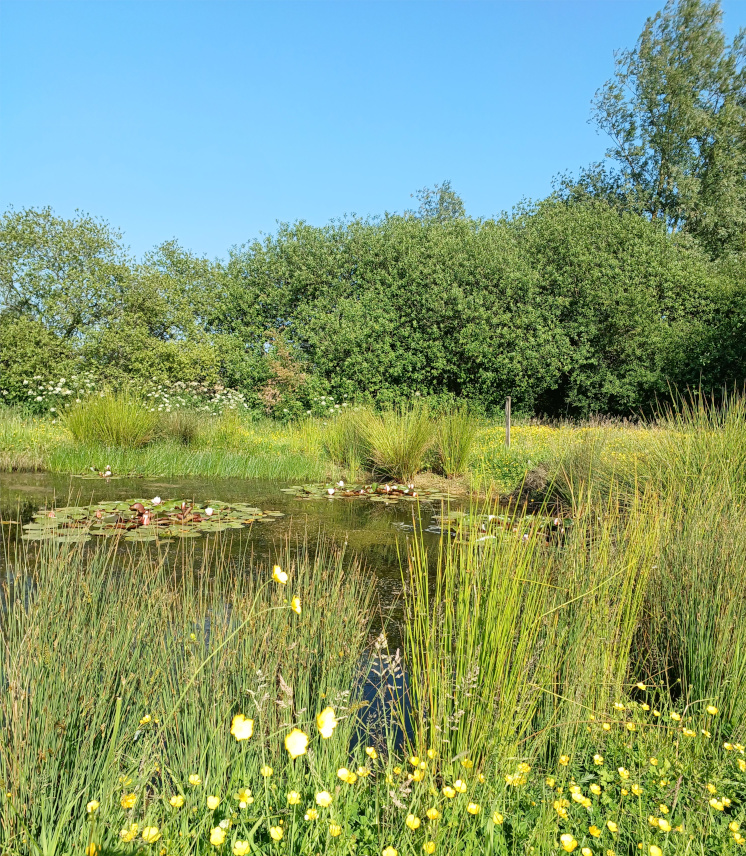 The early morning ferry Newhaven » Dieppe was a new one to us - quite pleasant really as there was enough time for a meal and an explore of the boat.
First Nights in France - Dieppe
A short drive from the ferry port and we were at our first campsite with a fishing lake and two rivers. All the facilities we needed to allow us to acclimatise, and the Avenue Verte running past the back of ths site within a few metres of an entrance - ideal!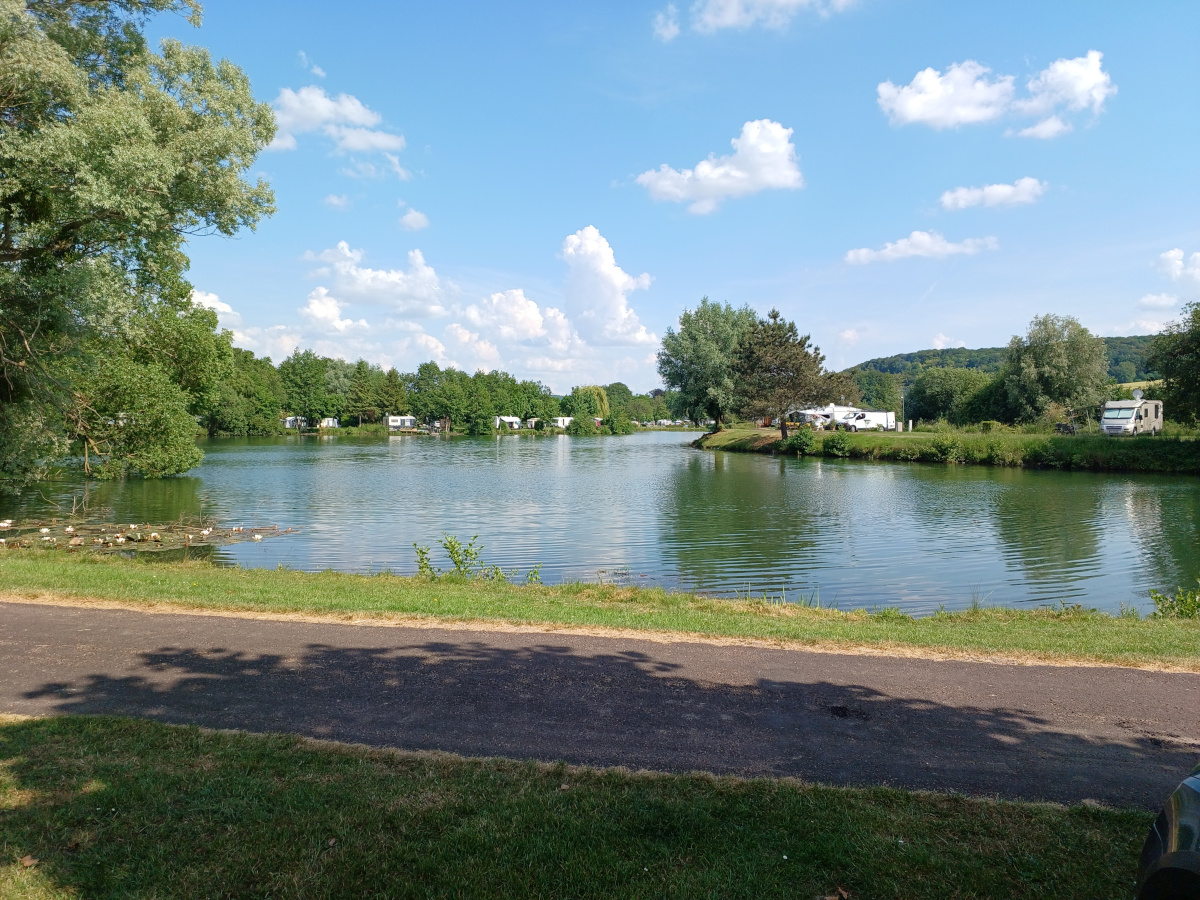 The next day we cycled along the route » Dieppe - it rained!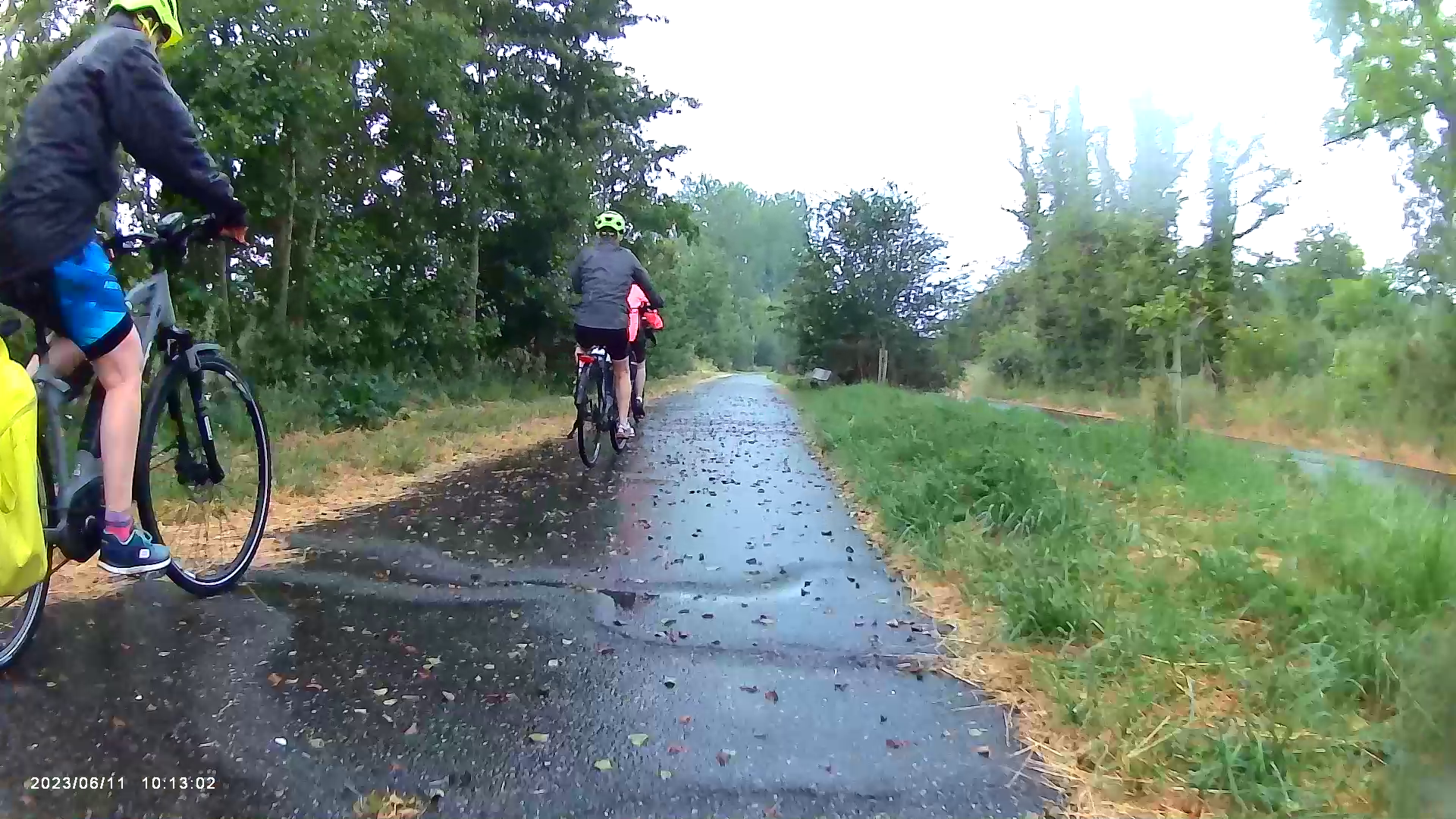 The route was much better than we had expected - mainly tarmac on old railway lines, and mostly extremely well signed.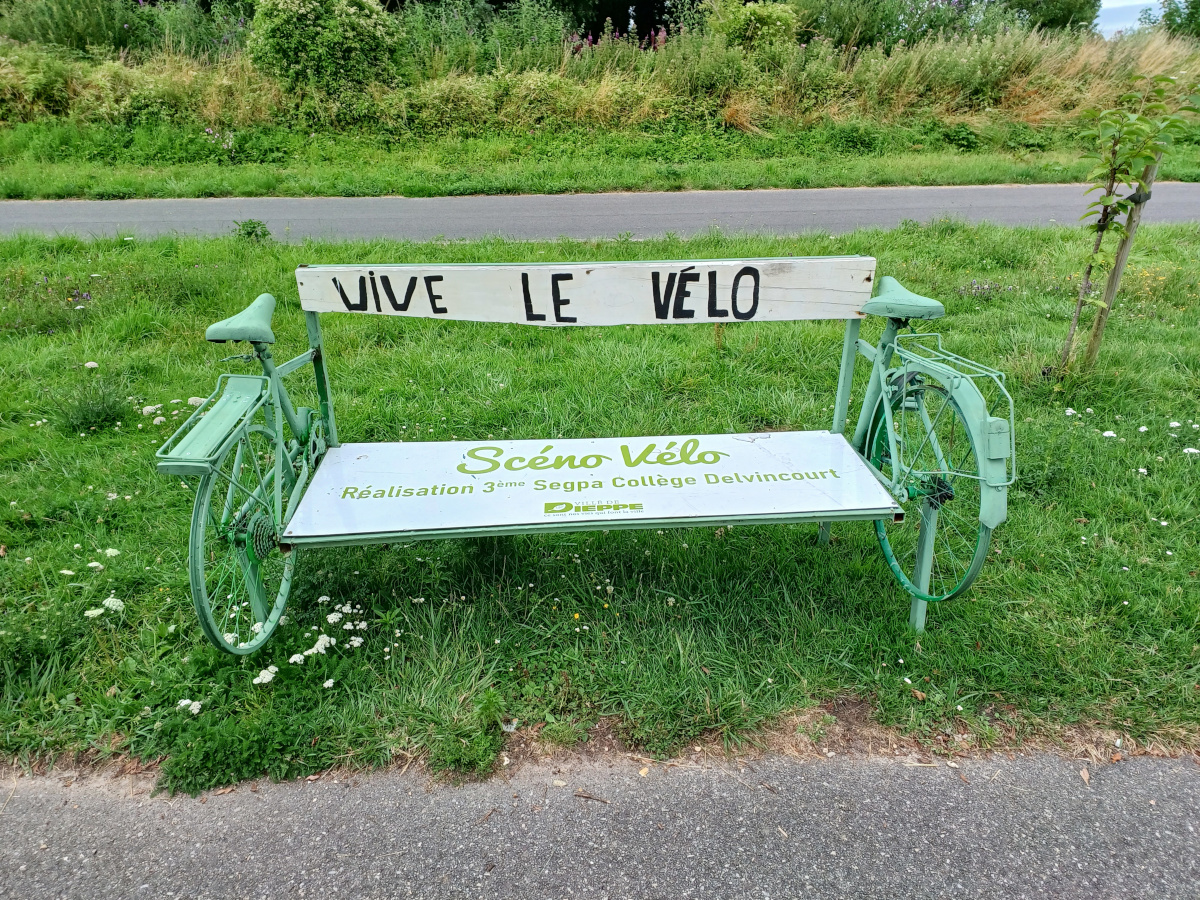 Dieppe harbour was good - nice seafood restaurant, and we were ready for some sightseeing again. But….. Just when you think everything is going well, life springs another surprise.
Daphne stopped at a junction, put her foot down, and her foot slid away from her on loose gravel. She crashed to the ground with the bike landing across her lower leg. Ouch.. She gamely continued on, but we could see she was in pain. That evening I drove her to the hospital - not broken, but very badly bruised. You will need a compression sock for some weeks, and you will need painkillers We need to praise the French Hospital staff, as they were very helpful & efficient - they were also very patient with our halting pigeon French - Thank you.
Maisons Laffitte & the start / finish of the Avenue Verte
An easy drive from Dieppe, and on the banks of the river Seine our campsite at Maisons Laffitte had all the facilities we needed, and was ideal for Daphne, who was finding any kind of exercise difficult and painful. It's train station was ideal for a day trip into the centre of Paris.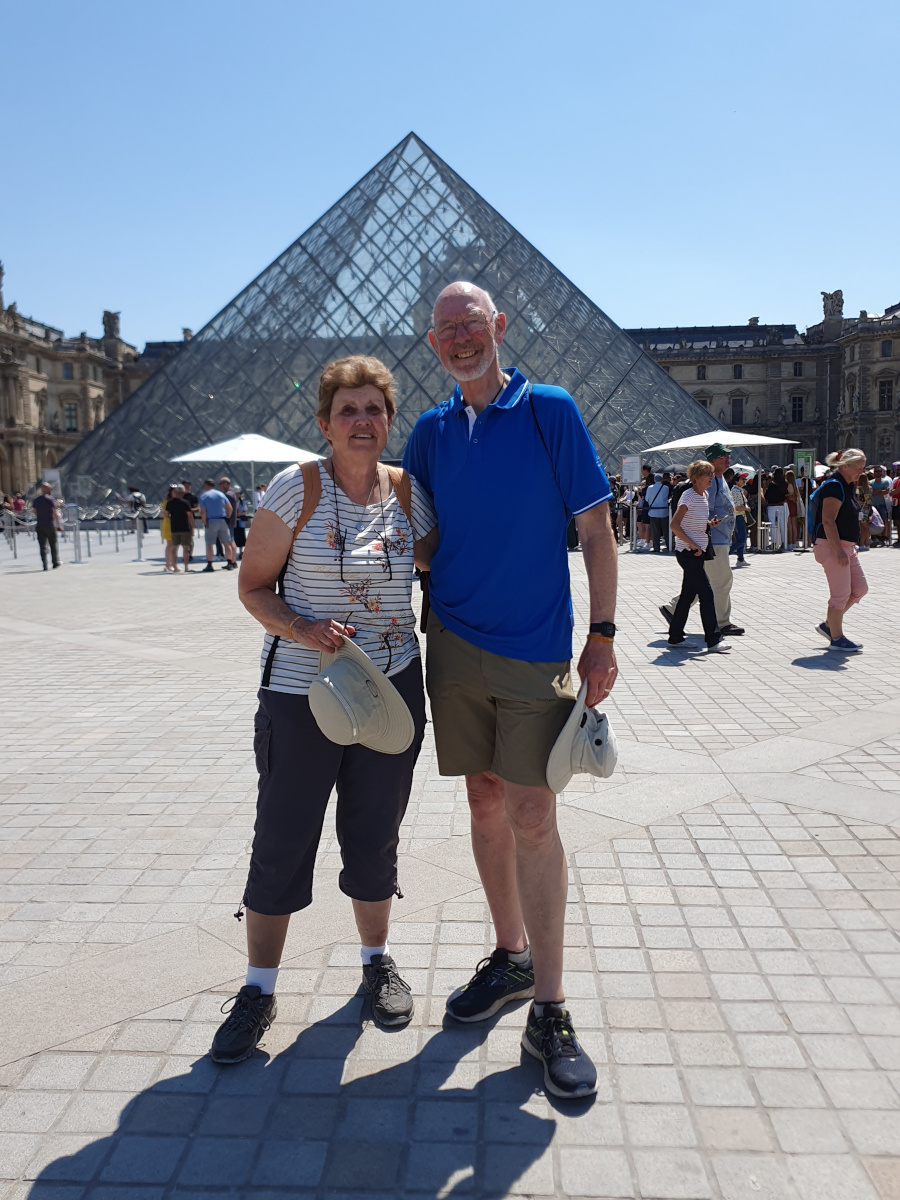 We spent several days exploring the local area, and Daphne's leg improved a little. The cafe's and restaurants enjoyed our company, and we relaxed.
But Nick wanted to cycle in Paris! The round trip from the campsite along the Avenue Verte would be over 60 miles, and the electric trike had about that as a range - it was possible, just. Oh, and the weather had turned hot, in fact very hot, with temperatures of over 30 degrees centigrade.
Nick setoff at 5am, with two full water bottles, plus a 2 litre water container in his back pack. Once over the river, the route was really enjoyable - mainly along a track close to the river, with plenty of trees providing shade. Navigation was easy, Nick had downloaded all of the .gpx tracks available for the route and loaded them into his old faithful Garmin Edge Touring, which was happily telling him about every upcoming turning, and lighting up at every feature. But then the roads became busier, and the route more complicated. The electric trike is good, and comfortable, but light it is not. Picking it up is possible, but carrying it any distance is not. This isn't a good thing to find on the route….  »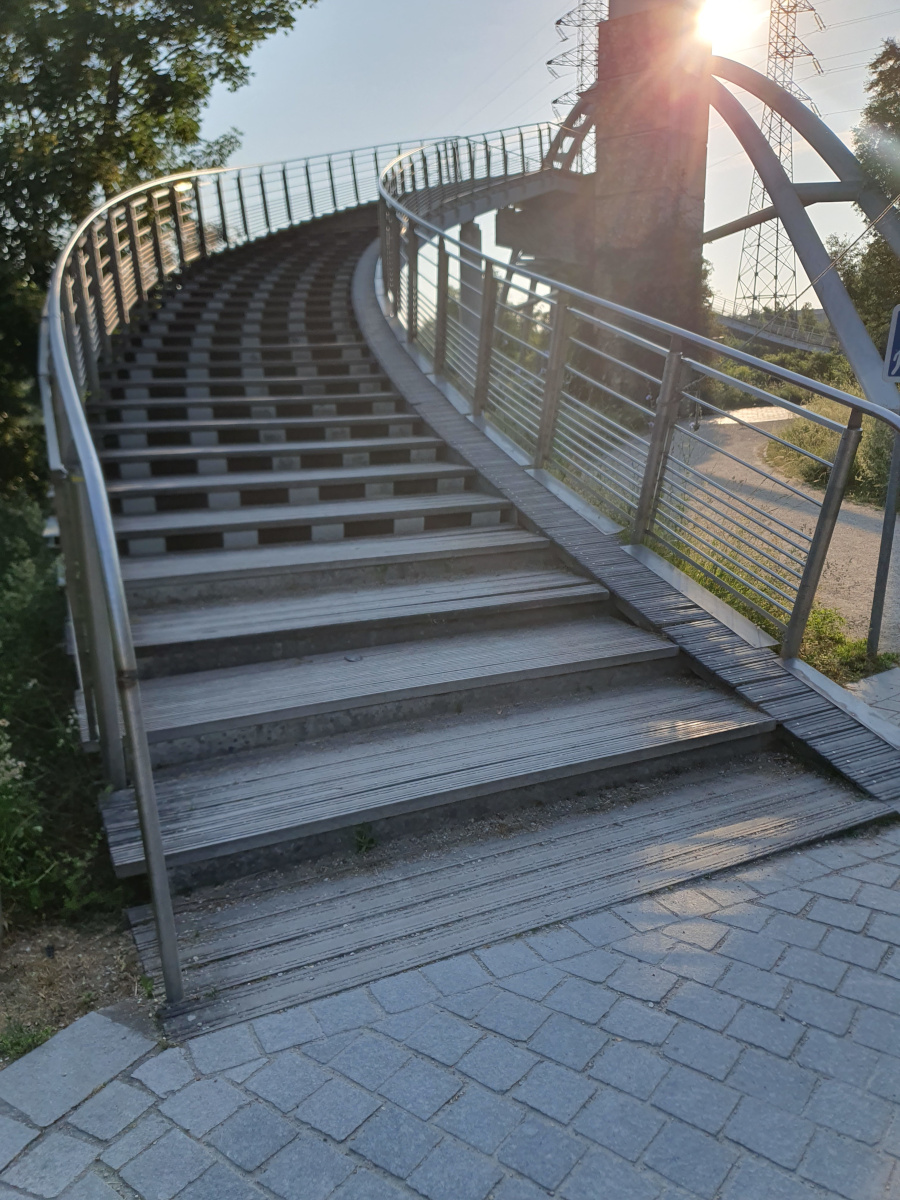 The little ramp at the edge of the steps is great if you have a two wheeled bike, but no good at all for a trike. Time to study the garmin, and maps. The old garmin was showing several cycle routes in the area, and it looked as if there would be a fairly easy detour around the bridge to get back onto the route. Oh, and there was a very clean public toilet nearby, which was handy because Nick was so worried about getting dehydrated in the heat that he needed a loo! After a short break for planning Nick setoff into the early morning rush hour traffic with the Garmin suggesting a route - but this didn't go well. Each time he left the route the Garmin would recalculate, and dealing with traffic in a foreign land meant frequent stops to try to work out where to go. After 30 minutes of constantly having to recalculate the Garmin decided it was going to stop playing, and just continually display 'recalculating'. Never mind, the phone has a very good mapping system on it - it's just that you can't easily use it whilst cycling. Pick a direction, cycle for 10 minutes, and then check on progress on the phone. Things were not going to plan, and it took a long time to get over this little hiccup. Plan 'B' emerged - just head for the centre of Paris, using any cycle lanes you can find (The Avenue Verte seemed to have vanished completely by this time).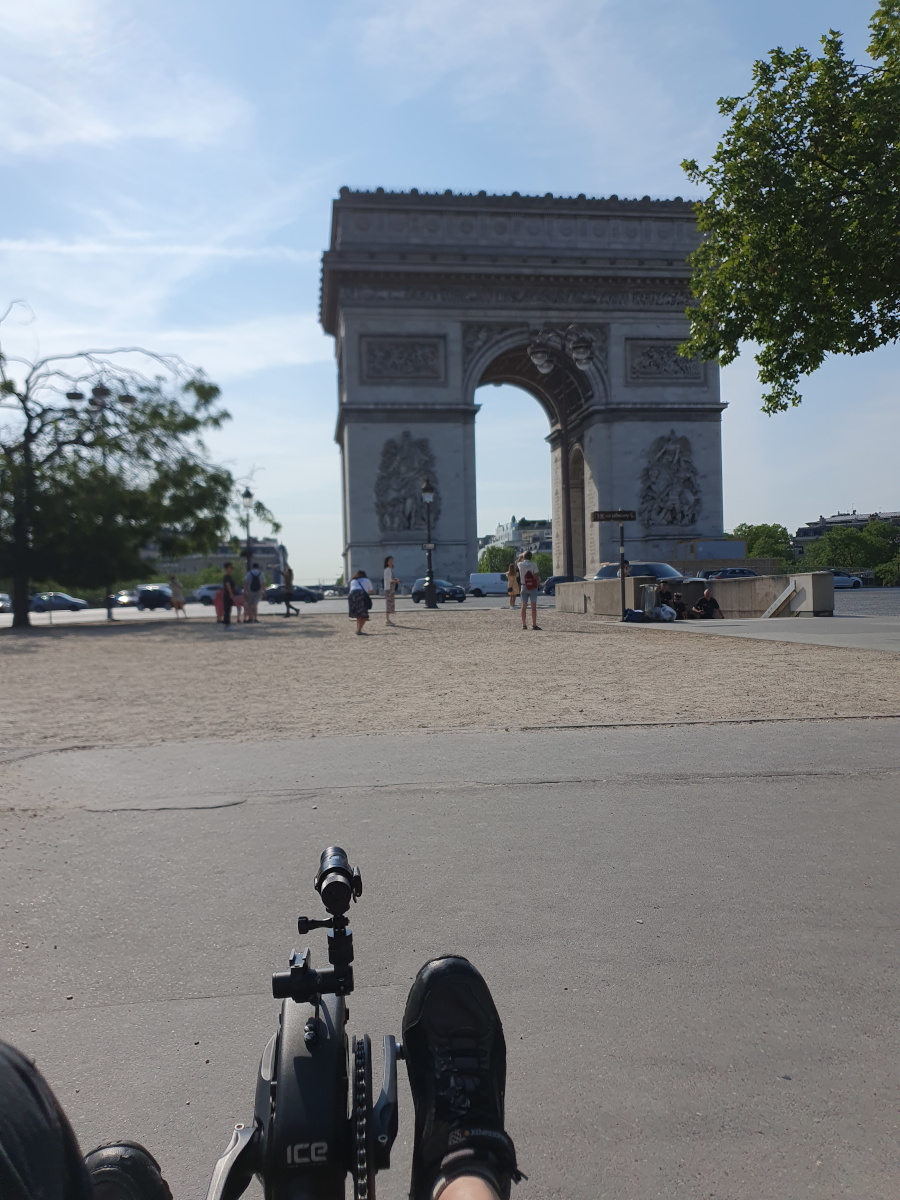 There is a sort of peripherique of small roads each with a cycleway aroung L'Arc de Triomphe, and this avoided the frightening prospect of joining the traffic around the monument itself. From there, it's all downhill to the centre of Paris, and the start of the Avenue Verte next to Notre Dame.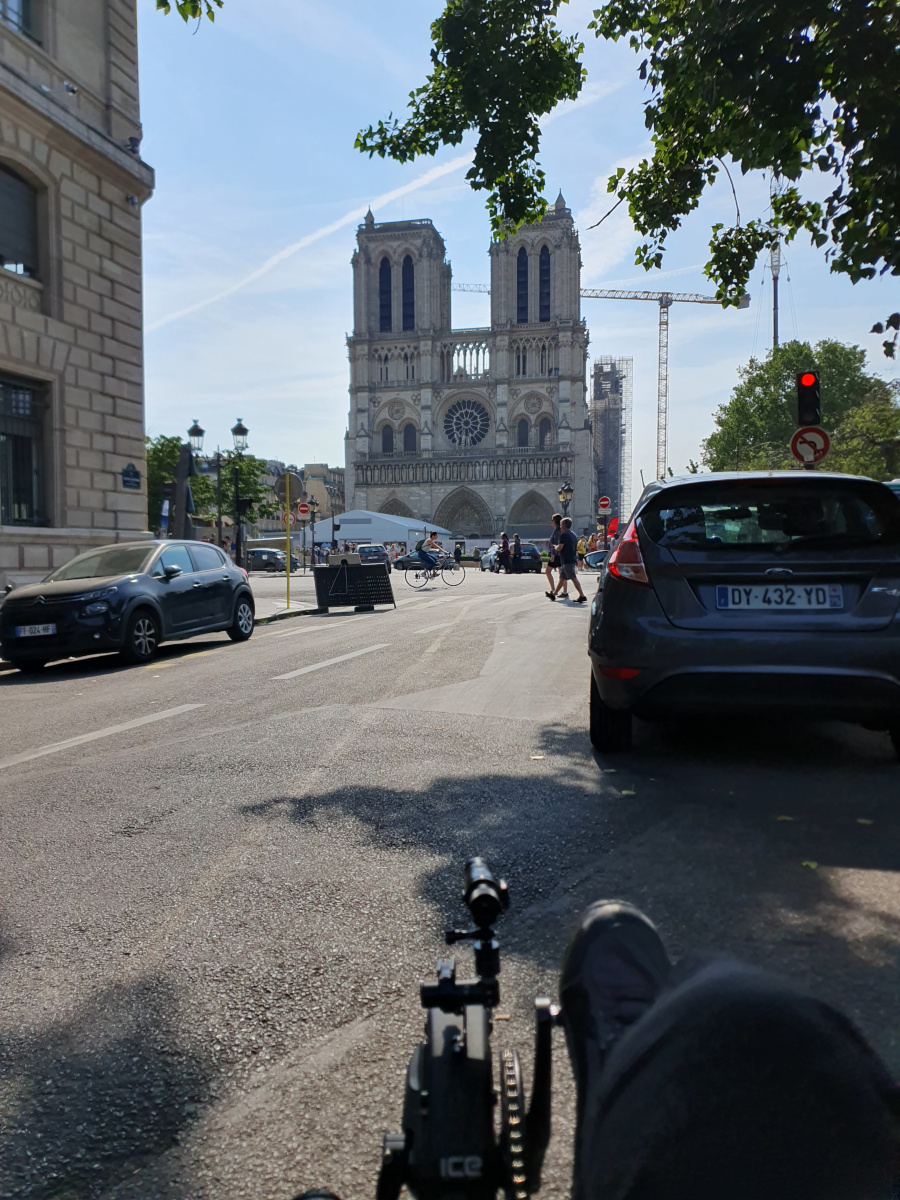 Notre Dame suffered severe damage from a fire some time ago, and is still undergoing repairs - Nick was very pleased to see that progress is being made on its restoration.
The old Garmin was turned off, given a few minutes rest, and then turned on again. The phone was consulted. Good, there were cycle routes But, there were many cycle routes, and on the phone and Garmin SatNav it was very difficult to see which one(s) were the Avenue Verte. There were road signs - everywhere, and there was traffic, and there were pedestrians, and there were other cyclists. In fact the other cyclists were one of the main problems - they were quick and Nick wasn't. Revert to studying the phone, then cycling for a couple of minutes before studying the phone again. Slow progress, but soon Nick was onto the right route, and a small cafe beckoned - coffee and a bottle of water - oh, and a croissant. Things were looking up!
The route joined a canal, and according to the map it didn't matter which side of the canal you were - nearly true, but navigating this sort of a problem is half the fun. There were a couple of places where roadworks signs diverted cyclists away from the original route, and a new route was being built - it all took time to navigate, and was very 'stop start', but it was good to see so many new cycle routes being constructed.
Nick was pleased with himself, as he had managed to mainly follow the Avenue Verte, and now he was next to the Seine again - but he knew that the bridge with all its stairs was ahead of him. After a study of the map he made a mental note of a road name where he needed to turn off of the route, and then follow his own diversion to get around the bridge. Plan 'C' was made, and then abandoned, as another diversion sent him away from the Seine, and there didn't seem to be a way back again. Plan 'D' involved navigating to a point past the bridge, and back onto the route again. This meant cycling along a path next to a main road, but at least it was progress in the right direction.
Back at the nice clean public toilets, past the bridge, and back onto the route next to the Seine. The phone was nearly dead, displaying less than 5% battery remaining, and the Garmin was also warning of impending shutdown because of a dying battery. Still, navigation was not needed, as Nick now knew where to go. About 2 miles from the campsite the trike's electric assist stopped working - flat battery, and progress slowed, but was still being made.
Nick made it back to the campsite almost exactly 12 hours after he left.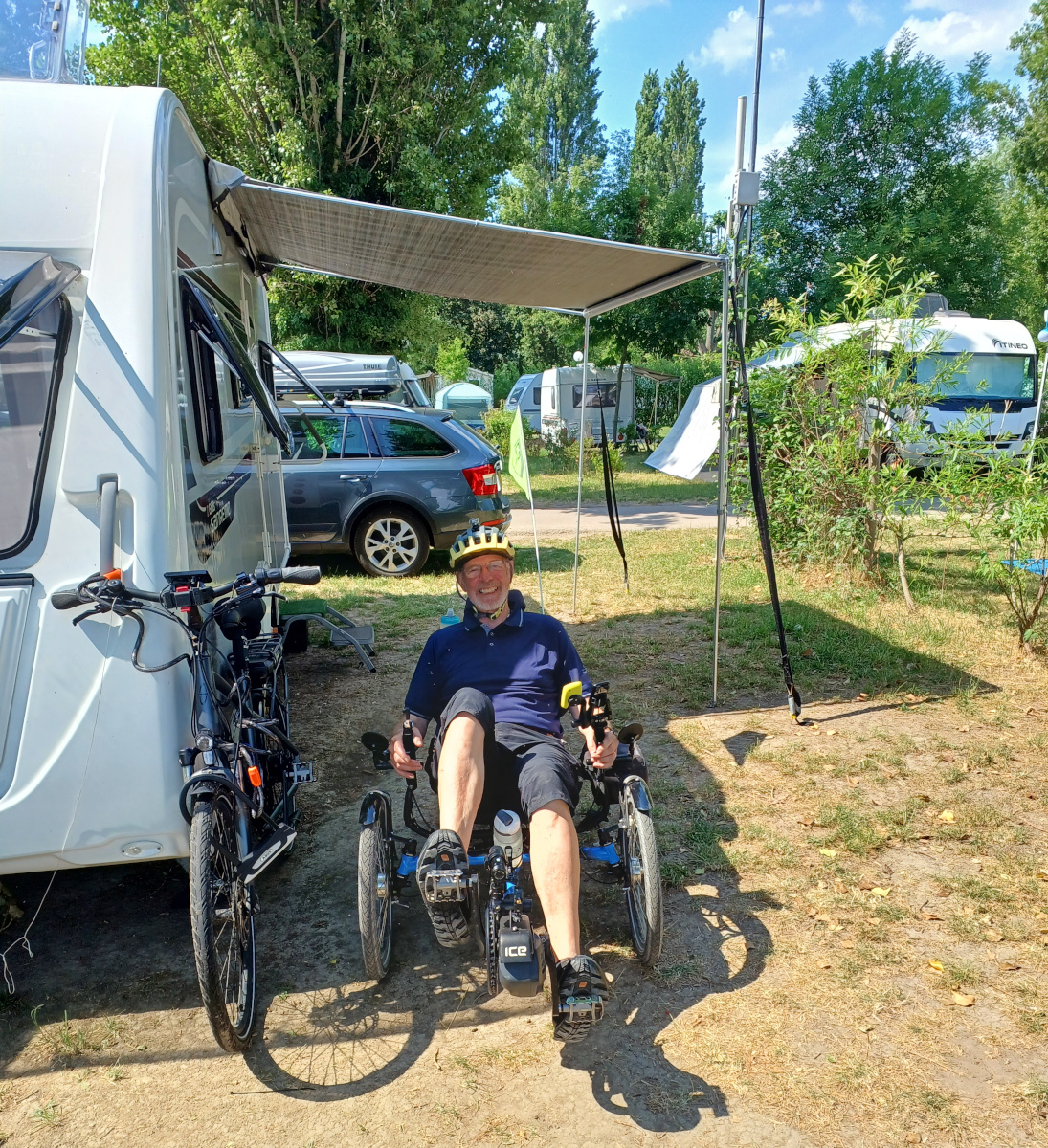 A very satisfying days ride, and the first time of riding so far that the electric assist packed up. This seemed to be mainly caused by the constant stop-start. On a flat road without navigation problems Nick normally rattles along at between 15mph & 17mph, which means that the electric assist is hardly being used, and the range extends to over 90 miles - this was not the case today.
Another thing to emerge from the day, was Nick's realisation that a better method of navigation was needed. The Garmin is good, in fact he has several old different one's and they are all good, but they can only display the mapping data they are loaded with. In Paris, and other large towns or cities there are now numerous cycle routes, and the problem is more a case of trying to find out which is the 'right' cycle route - in this case the Avenue Verte. Nick has created Garmin compatible maps from OpenStreetMap data before, and an idea was emerging - please see the Garmin-Maps section of this site.